The final Breaking the Silence conference was held in March of 2017. Insert Historical Info Here
The Peter Corren Award
A Legacy
Six of the seven recipients of the Peter Corren Award were present at the 18th Annual Breaking the Silence Conference on March 21, 2015.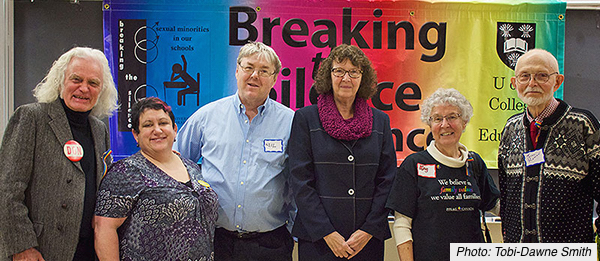 (From left to right) Don Cochrane (2014), Patti Rowley (2013), Neil Richards (2011), Pat Atkinson (2015), Kay Williams (2012), and Jim Komar (2013).   


(From left to right) Gens Hellquist (2010), Tony Bidulka & Herb McFaul (2017), Fran Forsberg (2017), Alex Wilson (2016)
Criteria:
This award may be given annually at the Breaking the Silence conference.
The award should be granted to that person, persons, or organization whose efforts have had a long-term impact on social justice for sexual minorities. It could be granted posthumously.
The award should be granted to those whose service/work was performed in Saskatchewan, or to those who have had a close relationship with communities in this province. The service/work may have been done outside of our province but would have affected us in Saskatchewan directly.
The work undertaken by a nominee should be done in a field of education.
Previous Recipients of the Award:
2017 - Tony Bidulka & Herb McFaul - Recognizing that many LGBT youth in our province live in very unsupportive environments, Herb and Tony resolved to establish Camp fYrefly Saskatchewan, an urban camp designed to help youth develop the skills and resiliency necessary for them to become change agents in their schools, families, and communities. The challenges were formidable among them raising financial support, developing program, appointing staff, and finding a suitable site. The camp is now planning for Year Nine of this annual leadership retreat for about 40 sexual and gender minority and allied youth between the ages of 14 and 24.
In addition, Herb and Tony have assisted Breaking the Silence by supporting high school students so that they could attend the conference free of charge. 40-50 students have benefitted from their generosity each year for the past five years. We are all deeply indebted to them for their generosity.
2017 - Fran Forsberg - Fran has changed the world at her doorstep by her work for and with children. Foster parent to over 150 children, Fran and her spouse have adopted ten of them, two of which are gender variant. Seeing the discrimination these children meet daily, Fran has taken up this cause. She has met with and educated parents, medical staff, teachers, school boards, MLAs, and Ministers of Education and Justice. Enlisting her local church and the United Church nationally, Fran started Camp Caterpillar (an all gender annual summer camp for trans and gender creative campers and their siblings, ages 7-12) in 2016. She has facilitated a family-support group and, with others, has filed a complaint with the Saskatchewan Human Rights Commission over the government's policies on issuing "gender markers" on provincial legal documents. The case is currently being heard. At so many levels, Fran leads the way and inspires those around her to strive for justice for all.
2016 - Alex Wilson - Alex's ground-breaking work on the identity development of two-spirit people is recognized internationally and has become a touchstone for many LGBTQI Indigenous people. Her scholarship has greatly contributed to building and sharing knowledge about two-spirit identity, history, and teachings; Indigenous research methodologies; and the prevention of violence in the lives of Indigenous peoples. Her current projects include research into two-spirit and Indigenous feminisms, two-spirit identity development, "Coming In" theory that impacts pedagogy and educational policy, and working with the Aboriginal HIV/AIDS Community-Based Research Program.
2015 – Pat Atkinson - When an undergraduate student in the College of Education, she was an active member of the 1975 Committee to Defend Doug Wilson. As a member of the provincial cabinet in 1993, she was a vigorous advocate for revisions to Saskatchewan Human Rights Code that made it illegal to discriminate against a person on grounds of "sexual orientation."  As Minister of Education, she addressed the first Breaking the Silence conference in 1998 decrying discrimination in schools based on sexual orientation.
2014 - Don Cochrane - Developed the undergraduate course Gay and Lesbian Issues in Education in 1995 - the first course in the history of the university to be devoted exclusively to sexual orientation issues. Don founded the Breaking the Silence Conference in 1998 and has been its chief organizer since that date.
2013 - Patti Rowley - The teacher-liaison for the first Gay-Straight Alliance in a Saskatchewan high school and has led vibrant groups for thirteen consecutive years in Saskatoon.

2013 - Jim Komar - A long-time activist for sexual minority rights including being a charter member of Affirm United at Grosvenor Park United Church and Integrity, an Anglican Church support group--both in Saskatoon. As well, he was an official complainant to the Saskatchewan Human Rights Commission more than ten years ago regarding hate speech, a case that led to the landmark judgment by the Supreme Court of Canada in 2013.
2012 - Kay Williams - An activist in many progressive causes, member of the national board of directors for PFLAG beginning in 2004, co-founder of the PFLAG-Saskatoon, and member of the Breaking the Silence advisory board since 1997.
2011 - Neil Richards - A Librarian, Member of the Committee to Defend Doug Wilson, and Archivist of materials that document the gay, lesbian, and trans communities in Saskatchewan.
2010 - Gens Hellquist (October 12, 1946-September 28, 2013) - Community activist, Executive Director of the Canadian Rainbow Health Coalition, and for many years Director of the Gay and Lesbian Health Centre in Saskatoon.
Keynote Speakers
2017 - 
2016 - 
2015 - 
2014 - Elvira Kurt, Comedian extraordinaire
2013 - John Cornish, Calgary Stampeders Football Team
2012 - Ivan Coyote, Writer and storyteller extraordinaire
2011 - Marci McDonald, Author of The Armageddon Factor: The Rise of Christian Nationalism in Canada
2010 - The Honourable Scott Brison, P.C., M.P. (Kings-Hants)
2009 - Kate Bornstein, New York performance artist
2008 - A tribute to members of the "1978 Committee to Defend Doug Wilson"
2007 - Prairie Pride Chorus (Regina)
2006 - Shawna Dempsey and Lorri Millan, performance artists (Winnipeg)
2005 - Respect for Sexual Diversity Troupe (Saskatoon)
2004 - Laramie Project, five performances of Moisés Kaufman's play on the 1998 murder of Matthew Shepard
2003 - Bishop John Shelby Spong, the widely published and well-known liberal Episcopalian theologian
2002 - Joe Arvay, Q.C., the lawyer who took the Chamberlain et al vs The Board of Trustees of School District No. 36 (Surrey) (The "Surrey Book Banning Case") to the Supreme Court of Canada…and won
2001 - Pat Griffin, University of Massachusetts—Amherst, a leading researcher on homophobia in school and university sports
2000 - Mark Tewkesbury, Canada's gold medalist at the Barcelona Olympic Games (1992)
1999 - Svend Robinson, former Member of Parliament for Vancouver-Kingsway